Press lies again about guns and the Parkland suspect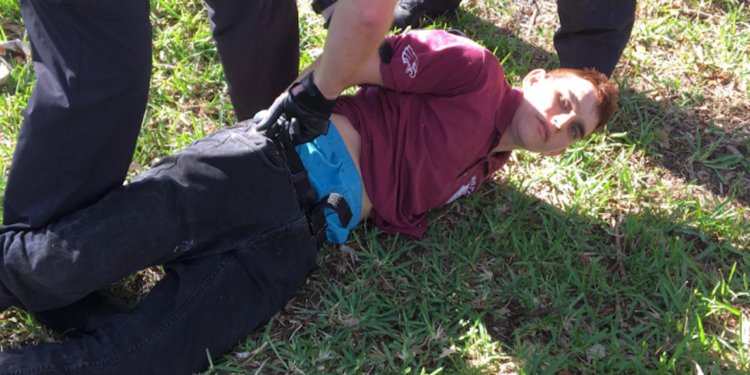 We know that
seventeen people were killed
by a 19-year-old shooter named Nikolas Cruz, at his former high school in Parkland, Florida this past Wednesday, Valentine's Day.
Nikolas Cruz was initially described as an Hispanic by media but then was magically converted to a White Hispanic (would that be similar to an Hispanic Black?) and then a Caucasoid because, well, the meme didn't fit the event. We learned later that
he was Hispanic
. Remember, if you're an American Media Maggot, only Caucasoids can be mass shooters. All others are inviolate. With some notable "
exceptions
." But that was before the AMM went "all in" on Caucasoids -- so they may be excused.
Teacher: FL School Shooter Had A Hispanic "Pride" Issue, "Didn't Like To Speak Spanish"

by Ian Schwartz

Alicia Blonde, a teacher at the Marjory Stoneman Douglas High School, remembered school shooter Nikolas Cruz as someone who had a "pride issue" with his Hispanic background and "didn't feel comfortable in his own skin, in his culture."

Blonde lamented that Cruz "didn't really like to speak Spanish too much."

"I remember him being a very quiet student," the teacher told MSNBC's Ali Velshi. "He has a Hispanic background. I remember that he didn't really like to speak Spanish too much. I think there was some pride issue there. He didn't feel comfortable in his own skin, in his own culture."
Of course, not the American culture but "his culture." Meaning: Hispanic. The intimation being: "he was a bad Hispanic." I wonder just how much hate and/or discontent Cruz had received over what must have been pressure to correspond to "his culture"? A question for another day. Then we were told Cruz had associations with White Nationalists. The American Media Maggots went gallivanting off with that meme as well. Eureka! We have rooted out the true evil nature of his Caucasoid soul. See?
We knew it
.
Media run with unconfirmed report tying Florida school shooter Nikolas Cruz to white nationalist group

by Brian Flood

The Associated Press inaccurately reported that Florida high school massacre suspect Nikolas Cruz was "confirmed" to be a member of a white nationalist group – but it appears the news organization was duped by attention-seeking trolls.

Cruz reportedly has confessed to police that he killed 17 people when he opened fire at Marjory Stoneman Douglas High School in Parkland, Fla., on Valentine's Day. Republic of Florida leader Jordan Jereb reportedly told the AP that Cruz was a member of his white nationalist militia and even participated in paramilitary drills.

"Leader of white nationalist group has confirmed suspect in Florida school shooting was member of his organization," the AP tweeted on Thursday.

Media Research Center contributing editor Tom Blumer wrote that the AP went to "great excuse-making lengths" after it "abandoned skepticism" when contacted by Jereb.

"It's reasonable to ask if what supposedly fooled them was really narrative-fitting information that was too convenient to conscientiously check," Blumer wrote.
There must be a political motive, the AMM insists.
Then, from the
TallahaseeDemocrat.com
:
Local law enforcement: No ties between militia and Florida high school shooter

by Karl Etters




Local law enforcement sources have not found a connection between accused Parkland school shooter Nikolas Cruz and a Tallahassee-based paramilitary group.

Leon County law enforcement sources told the Tallahassee Democrat that they could not find information linking Cruz, 19, to the Republic of Florida Militia, as claimed by the group's self-proclaimed leader Jordan Jereb.

His comments to the Anti-Defamation League and The Associated Press set off a media firestorm Thursday at about midday that Cruz was connected to the alt-right, white nationalist group.

Hours after news outlets around the nation reported Cruz's alleged ties, Leon County Sheriff's Office spokesman Lt. Grady Jordan told the Tallahassee Democrat investigative work did not yield any connections.
The actual truth emerged. Corrected by local law enforcement -- who should know. At least the
AP admitted
that they fell for the ruse.
White nationalist appears to disavow connection with shooter

PARKLAND, Fla. (AP) — A white nationalist appears to have lied to The Associated Press and other news organizations when he claimed that Florida school-shooting suspect Nikolas Cruz was a member of his obscure group.

Law enforcement officials have said they didn't have any evidence to support the claim that Republic of Florida leader Jordan Jereb made in interviews with several news organizations.

Jereb told The Associated Press on Thursday that Cruz had participated in paramilitary drills in Tallahassee, where his group is based. Jereb said he didn't know Cruz personally and that "he acted on his own behalf of what he just did and he's solely responsible for what he just did."

Law enforcement officials said they hadn't confirmed any such ties.

Lt. Grady Jordan, a spokesman for the Leon County Sheriff's Office in Tallahassee, said he knew of "no known ties" between Cruz and Jereb's group.
Let's examine the individual named Jordan Jereb. There isn't possibly a bigger, more useless goober in the state. Jereb's Evil Empire has ten affiliates at best according to law enforcement. I know of sewing circles with more fearsome and menacing members.
Yet the AMM were more than willing to risk whatever may be left of their tattered reputations to hope with all fervency that Jereb was in fact totally correct. It
must
be. It
has to be.
You have to ask yourself
why
the American Media Maggots continually "fall for the ruse" if it has anything to do with President Trump or essentially any conservative value, tradition or belief? Why?
Because they so want anything and everything conservatives stand for to be wrong, injurious, evil. In these days, with emphasis against President Trump. He has kicked over the American Media Maggot beehive and remained predominantly unstung.
Just who deceived whom? It was the AMM who tried to deceive
you
. This is a running theme with the AMM and resulted in their being typified as Fake News. They continue to prove worthy of the appellation.
What passes for "good journalism" today consists of either a single source or an anonymous source in altogether too many cases.
What happened to the "good old days" of three confirmed sources prior to publication?
Those days are long gone.
And they're not coming back in any foreseeable future.
BZ